easy 99 i got year or so ago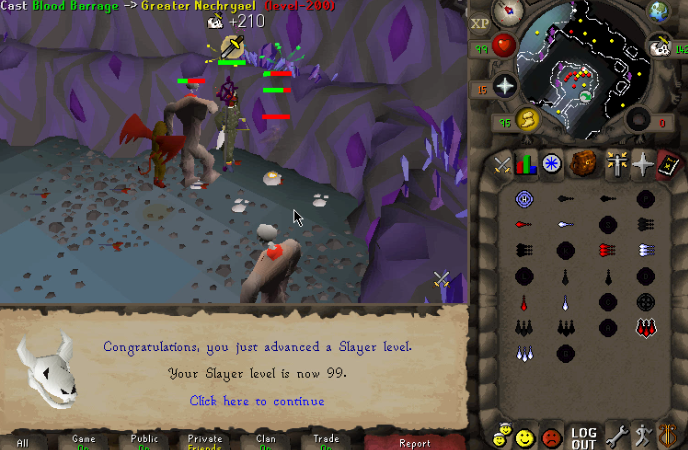 Congratulations on 99 Slayer a year or so ago
good job, went from 85 to 93 since coming back to rs and not sure why people call this skill easy or say it makes money
09-29-2018, 11:51 PM (This post was last modified: 09-29-2018, 11:52 PM by I Love You.)
(09-29-2018, 03:44 PM)

Saddam Wrote: good job, went from 85 to 93 since coming back to rs and not sure why people call this skill easy or say it makes money
Depends how you do it (in regards to makes you money) and what tasks you do. Doing boss tasks (eg doing Dag Kings for daggannoths, Cerberus for hellhounds, Armadyl for Aviansies and so on) will make you a lot. If you prefer exp and choose to cannon/barrage everything, you won't make as much in the long run. I remember seeing someone who had a 1 bil tab from 80-99 Slayer and he did it mainly through boss slayer.
OT: Congratulations on 99 Slayer.
E: Found the 1b slayer tab pic if you wanted to check it out.
https://imgur.com/a/mpNy6
gz a year ago lol
People used Blood Barrage outside of staking? Wow-ee I completely forgot!

"People are continually pointing out to me the wretchedness of white people in order to console me for the wretchedness of blacks. But an itemized account of the American failure does not console me and it should not console anyone else. That hundreds of thousands of white people are living, in effect, no better than the "African Americans" is not a fact to be regarded with complacency. The social and moral bankruptcy suggested by this fact is of the bitterest, most terrifying kind."
Users browsing this thread: 1 Guest(s)