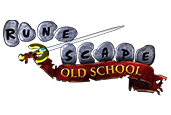 QoL Month Poll: Combat
.poll-box{padding: 10px;background-color:rgba(255,255,255,0.05);box-shadow:0 0 3px #000;text-align: center;}
QoL Month Week 1: Combat
QoL month has arrived once more! As always, we're spending the entirety of February dedicating time to themed Quality of Life updates. This week we kick things off with your Combat related suggestions! For those hoping to see improvements elsewhere, fear not, for the following weeks will be dedicated to Skilling, General/miscellaneous and near misses. The schedule for Combat Week is as follows:
In-game poll live by 01/02
In-game poll closes 05/02
Week 2 - Skilling Blog live by 06/02
As many of the combat updates given in game from 08/02
Edits:Question #7 has been changed from +4 to +5 to match the Serpentine Helmets original stats prior to the later nerf.Make sure you head over to the Old School Content Suggestions forum, or Reddit (/r/2007scape/ and /r/oldschoolrs/), to share your suggestions for Week 2 - Skilling! 
Poll Questions
Poll Question #1
Should the Defence requirement found on Blessed forms of D'hide Chaps be removed? Currently they require 40 Defence to equip.
( Source: RuneScape.com )